Holiday Hours
Chateau La Vin will be closed Sunday thru Tuesday for the July 4th holiday.  Get your holiday wine between now and Saturday!  Enjoy the holiday and be safe!
New Summer Hours
Chateau La Vin will be closed on Sunday's for the summer.  Our hours for Tuesday thru Saturday will not change. 
Main Street Jazz and 3 for 3 Thursday!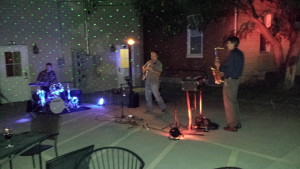 Ron, Matt & Steve will back to play more great jazz on the patio!  Come in and enjoy the music!  They start at 7:30.  Every Thursday from 5:00 pm until 8:00 pm we will offer our new house wines for $3 per glass!  Start your weekend early with your favorite drink! 
Upcoming Musicians & Events:
Main Street Jazz  – 6/29
Silverback – 7/7
Truttmann-Wooley Duo – 7/8
Wayne & Mike – 7/14
The Eric Prewitt Band – 7/15
Lisa Jones – 7/21
Charlotte Street – 7/22
Smoke & Mirrors – 7/28
Matt Diekemper – 7/29