Martini Friday & Italian Wines!
Friday's Featured Martini!
Martini Friday continues at Chateau La Vin!  Before we got to many weeks of Martini Friday behind us, I thought we should feature the original martini! Your choice of Gin or Vodka Martini's.  I do still have the ingredients for the Godiva & Cosmo Martini's. 
Italian Wines to Taste Tonight!
We have two new Italian wines to taste in the shop tonight!  Check them out!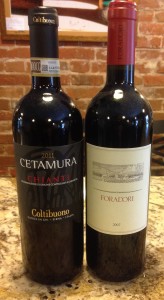 Cetamura Chianti ($14.99) – "Cetamura is the name of an Etruscan settlement on the Badia a Coltibuono property. This wine was conceived with the intention of creating a young, pleasant wine, perfect for every day. With this objective in mind, we select the best Sangiovese and Canaiolo grapes from various sub-zones of Chianti to express the typical freshness and accessibility of these varieties.  90% Sangiovese and 10% Canaiolo.
Foradori  ($29.99) –  Campo Rotaliano is a well demarcated geographical area, a sort of recess of the Adige Valley tucked between the mountains.  Its history and origin are closely attached to the Noce River, which, over the centuries, has deposited huge quantities of limestone, granite and porphyry debris. This small plain, depending on the soil composition, distinguishes itself for its various microzones bearing various names given by the local vintners. The Teroldego grape is a cousin of Syrah and thrives in the warm and cool nights of this mountainous region. Dark and spicy this medium to full bodied red is brimming with bright fruits and hints of black pepper and herbs. Made from 40 year old vines and aged in small oak casks for 12 months this wine is great alone or with food. 100% Teroldego.  90 Pts. WE & RP.
New Hours for Chateau La Vin!
Over the last two plus years, we have continued to evolve to meet the needs of our customers.  As we move into 2014, we are taking another step in that process.  Our new hours are a few small changes, but I think they will be popular!  Remember, if the lights are on, we are open!  Here are our full new hours effective today!
Tuesday – Thursday 2:00 p.m. until at least 9:00 p.m.
Friday 2:00 p.m. until at least 11:00 p.m.
Saturday noon until at least 11:00 p.m.
Sunday 2:00 p.m. until at least 7:00 p.m.
Closed Monday
3 Days Left!  Republic Times Best of 2013 in Monroe County!
The Republic Times "Best of 2013" contest ends January 13th.  Chateau La Vin is still in the lead, but it is getting closer.  Please continue to support Chateau La Vin as the contest reaches its end!  Chateau La Vin is in the category of best Winery, Wine Bar & Micro-brewery.  Cast your vote for Chateau La Vin at:  http://www.republictimes.net/bestof2013/#2180185 Thanks for your support!
Like us on Facebook!