Cabin Fever? Thursday Night Jazz is the Cure!
Live Jazz Thursday Night!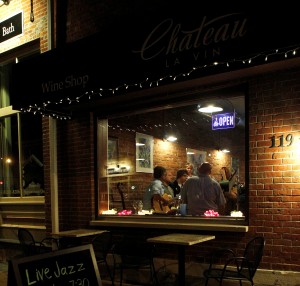 Do you have a serious case of Cabin Fever?  Here is your chance for a great cure!  Ron and Keith will be back on Thursday night to play some great Jazz!  The music starts at 7:30.  Come on out and enjoy some wine, beer or spirits.  Chateau La Vin is the place to go to cure your Cabin Fever!
New Hours for Chateau La Vin!
Over the last two plus years, we have continued to evolve to meet the needs of our customers.  As we move into 2014, we are taking another step in that process.  Our new hours are a few small changes, but I think they will be popular!  Remember, if the lights are on, we are open!  Here are our full new hours effective today!
Tuesday – Thursday 2:00 p.m. until at least 9:00 p.m.
Friday 2:00 p.m. until at least 11:00 p.m.
Saturday noon until at least 11:00 p.m.
Sunday 2:00 p.m. until at least 7:00 p.m.
Closed Monday
Republic Times Best of 2013 in Monroe County!
The Republic Times "Best of 2013" contest ends January 13th.  Please continue to support Chateau La Vin!  Chateau La Vin is in the category of best Winery, Wine Bar & Micro-brewery.  Cast your vote for Chateau La Vin at:  http://www.republictimes.net/bestof2013/#2180185 Thanks for your support!

Like us on Facebook!