Friday Tasting & Holiday Hours!
Martini Friday & French Wines to Taste!
We have two new wines in the shop today for you to taste.   It's also Martini Friday!  Cosmopolitan, Dirty or Godiva Chocolate!  What would you like?  For today's tasting, we have a Viognier & Cabernet Sauvignon/Merlot blend, both from France!  Check them out!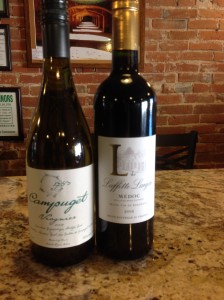 Chateau De Campuget 1753 Viognier from France ($20.99) – Taking its name from earliest dated mention in a document found at the Chateau , this Viognier exhibits delicious flavors of honeysuckle, peaches and tropical fruit.  This elegant wine can be served by itself or with salads, grilled fish, chicken or veal dishes.  Located in southern France, Chateau de Campuget produces, Rhone wines of great distinction that truly reflect their sunny Mediterranean origin. 
L de Laffitte Laujac Bordeaux from France ($23.99) –  50% Cabernet Sauvignon, 50% Merlot. Aged 6 Months in French Oak. The vineyard is taken care of in a traditional way while taking into account the latest innovations if they seem worthwhile for the quality of the wine. The cut Guyot double, the Bud control (ébourgeonnage), the Manual removal of leaves (effeuillage) and the Green harvest(vendanges vertes) insure a good maturity of the grapes.
Holiday Hours!
Chateau La Vin will be open on Monday (12/30) from 2:00 until at least 9:00 and New Year's Eve from 12:00 until 4:00 for your last minute party needs!  We will be closed New Year's Day.  We have a lot of sparkling wines in stock! 
Republic Times Best of 2013 in Monroe County!
The Republic Times is running a "Best of 2013" contest.  Chateau La Vin is in the category of best Winery, Wine Bar & Micro-brewery.  Voting is going on now!  Cast your vote for Chateau La Vin at:  http://www.republictimes.net/bestof2013/#2180185 Thanks for your support!
Like us on Facebook!