Main Street Jazz Thursday!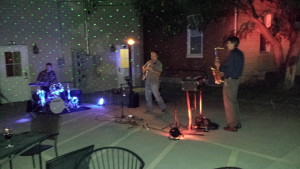 Ron, Matt & Steve will be here Thursday for some great jazz!  Start your weekend off with some great music and a glass of wine, beer or a cocktail!  They are starting at 7:30 pm.
Smoke & Mirrors Friday!
Paul from The Eric Prewitt Band has teamed up with Jason to form this new duo.  Jason sat in for a few songs with The Eric Prewitt Band the last time they played on our patio.  I'm really looking forward to having them play here as Smoke & Mirrors!  It should be a great night of music!  Hopefully on the patio!  Start time is 7:30.
Charlotte Street Saturday!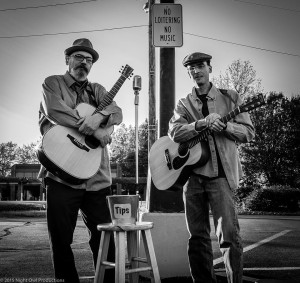 Enjoy an Acoustic Evening with Charlotte Street featuring Stephen Koritta and Mark Chapman at Chateau La Vin!  They are always a great hit when they play here.  They play a huge variety of music and chances are that if you have a request, they know it.  We will have their original CD available for purchase!  It's a great CD!  The music starts at 7:30.
Upcoming Musicians:
Smoke & Mirrors – 9/30
Charlotte Street – 10/1
Lisa Jones & Mike Snodgrass – 10/7
Whiskey Dixon – 10/13
Eric Prewitt – 10/14
Truttmann-Wolley Duo – 10/15