Main Street Jazz and 3 for 3 Thursday!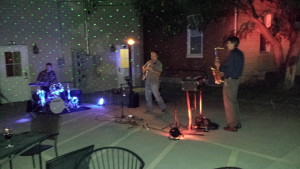 Ron, Matt & Steve will back to play more great jazz on the patio!  Stop in and enjoy the music!  They start at 7:30.  Every Thursday from 5:00 pm until 8:00 pm we will offer our new house wines for $3 per glass!  Start your weekend early with your favorite drink! 
Songs4Soldiers Friday & Saturday!
Chateau La Vin will have a booth at the 5th annual Songs4Soldiers benefit concert in Bolm-Schuhkraft City Park!  The event is now two days and features Bret Michaels on Friday night!  Stop over and support a great cause!
Upcoming Musicians & Events:
Songs4Soldiers – 9/22 & 23
Fine to Drive – 9/29
The Eric Prewitt Band – 9/30
Rob Boyle – 10/6
Silverback – 10.7
Witches Ghoulish Nitght Out with Silverback – 10/12
Matt Diekemper – 10/13
Charlotte Street – 10.14